If you're a fan of do-it-yourself projects, why not take that love and incorporate it into your Toronto wedding? There are so many ways you can make your big day extra special–for you and your guests–by adding your own personal touch. Whether you're a DIY pro or are just feeling inspired to do something crafty, incorporating handmade elements into your big day is a wonderful way to make it feel even more unique. Here are 6 ideas, ranging from simple to complex, for the DIY bride:
1) Make your own centerpieces.
Who says centerpieces should be handled by a vendor? Burlap wrapped candles, Mason jars filled with fresh cut flowers, photo frames, and vases featuring floating candles all make beautiful visual displays.
2) Create an "About Us" collage.
Give guests something fun to look at by creating a collage or display that showcases pictures of you and your fiancé as kids or throughout your relationship. Guests will love seeing photo proof of your adventures.
3) Design and sew an accessory.
If you're a gifted seamstress, why not make your own veil or handbag? It will be especially meaningful and will make a lovely gift to hand on to your daughter or someone special for their own wedding some day.
4) Customize your place cards.
Even if your place cards are store bought or professionally made, there are infinite ways to add your own personal touch to them. If you love sparkle and shine, add glitter or rhinestones. If your Toronto wedding has a more upscale feel and you have beautiful handwriting, consider writing out the names of the guests yourself.
5) Make custom signs for the reception.
Make sure your guests are informed on everything that's happening at the reception by creating custom signs that describe the drinks available at the cocktail bar, a schedule of the evening's events, and detailed information about the food, which will especially be appreciated by vegetarian, vegan, and gluten intolerant guests.
6) Design your own Thank You notes.
Though it is simple for most brides to find lovely Thank You notes, if you enjoy scrapbooking or other paper-crafting hobbies, why not make your own? It's an activity that can work on alone in the months leading up to your wedding, or something fun you can do with your bridal party over a few glasses of wine.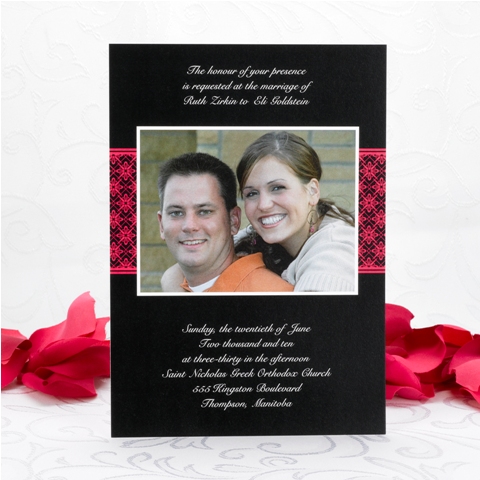 Your guests will appreciate all the time and effort you put into making your Toronto wedding special and unique with DIY projects like these. And don't forget, no matter how beautifully you've decorated the reception venue, all eyes will be on you on the big day! If you'd like to schedule a private appointment with one of our consultants, please call or email us today. We'd be honored to help you plan the day of your dreams!