A winter wedding in Toronto can be unbelievably magical. Because it is the least busy season in terms of weddings, couples often have first dibs on the best venues, musical acts, caterers, and other vendors. They can also be really creative when it comes to planning the winter wedding, playing off the cold winter weather and planning extra special touches that will make the experience even more enjoyable for guests.
If you're planning a winter wedding, check out these six unique touches you can incorporate to ensure everyone has a great time and remembers your big day for years to come.
1) Choose White Flowers
When you think of wedding flowers, bright colors probably come to mind. Winter brides can choose white or cream-colored flowers to add elegance and sophistication. A simplified color palette, such as white and silver or cream and gold, transforms the day into a true winter wonderland.
2) Provide Matching Umbrellas
If your guests will be outside for the ceremony, reception, or to travel between venues, provide umbrellas to ensure they're protected from any precipitation. Matching clear umbrellas work with any color palette and look great against a snowy backdrop. Make sure your photographer gets some pictures of the outdoor scene!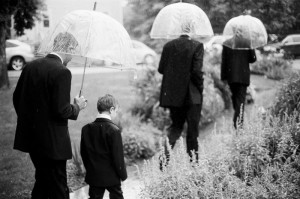 3) Serve Warm Drinks
Play up the season by serving spiced apple cider, hot toddies, or even egg nog. These soul-warming beverages are the perfect way to greet guests after they've trekked through the cold weather.
4) Have Blankets Available
If the reception is being held outside–such as in a heated tent–chances are pretty good that at least a few of your guests will be chilly at some point. Make sure everyone stays comfortable by placing stylish throws throughout the venue. Clip on a simple tag that says "Chilly? Take me to your table to warm up!" so people know that the blankets are not just for looks.
5) Provide Shoe Cover-Ups
Have the valet drivers greet guests with shoe cover-ups. Everyone will appreciate the extra step you've taken to keep their feet dry and protected from the elements!
6) Incorporate the Holidays
If your big day is scheduled near Christmas, Hanukkah, or New Years, why not subtly tie it in with your wedding? If you and your fiancé love celebrating Christmas, tastefully include a few trees in the event. You could hang seating cards from a tree at the entrance or send everyone home with a Christmas ornament as a favor.
When it comes to planning your winter wedding in Toronto, remember that you have an incredible backdrop for an unforgettable day. Plan a day that serves the practical needs of your guests but that is still filled with unique touches. It will definitely be a memorable event that is special for you and all your guests.